Bernard Health Announces Launch of On-Demand HR Service and SaaS Platform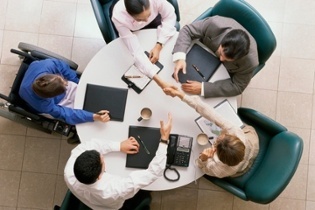 BernieHR combines benefits and HR expertise to offer employers the perfect combination of technology and qualified professionals
Bernard Health, a leading benefits advisory firm, announced today the launch of BernieHR, a new strategic HR service that simplifies the complexity of human resources (HR) administration and provides on-demand support to small- and mid-sized businesses.
Combining the tenured benefits advisory expertise of Bernard Health with professional HR administration, BernieHR will help businesses that lack a full-time human resources professional obtain "à la carte" options in a full-suite of HR services and will provide additional counsel as needed. The new service is launching with an expanded version of BerniePortal, Bernard Health's benefits and HR administration platform.
Some of the services offered by BernieHR include:
Advanced New Hire On-boarding

File Administration

Policies & Procedures

General HR Questions and Support

Reporting (Compliance, Affordable Care Act and more)

Time Off Management

Payroll Solutions

Advanced Off-boarding
"Our new service approach really completes the whole life cycle for HR," says Rebekah Michel, PHR-HRCP, recently hired by Bernard Health to launch and lead BernieHR. "Given the benefits advisory experience at Bernard Health and cloud-based resource management available through BerniePortal, the BernieHR team is uniquely poised to offer an unprecedented level of assistance to companies that may have been forced to relegate HR to a less significant role in the past."
Prior to joining BernieHR, Michel worked as the Director of Human Resources for both Peak Health Solutions and Peak Risk Adjustment Solutions, providing direction in HR, recruiting, training and credentialing. She is PHR-HRCP-certified and has more than 16 years of comprehensive HR experience including talent acquisition, start-up operations, compliance and leadership in both public and private multi-site, multi-state organizations.
"I'm excited to join the BernieHR team and am confident that our new service will take the complexity out of HR administration and remove the burden from small and mid-sized employers," added Michel.
BernieHR clients will be able to access a wide range of HR resources on BerniePortal, including everything from onboarding/offboarding template documents to state and federal forms. Additionally, the platform's scalable ticket system for customer service will allow for fast and reliable response by the growing BernieHR service team.
According to Brian Tolbert, Employee Benefits Practice Leader at Bernard Health, the decision to create the new HR service was a natural one for both the company and its clients.
"By being given the opportunity to help employers with their benefits plan strategy and move many of their processes online with BerniePortal, we've witnessed first-hand that most organizations didn't have the resources to support a full-time HR expert," said Tolbert.
Starting today, new and existing Bernard Health clients in need of HR services will be eligible for "BernieHR Scorecard" – a free sample offering of the service which includes:
Employer Employment Policies and Procedures/Process Audit

Development of Company Organizational Charts

BernieHR Newsletter and Webinars
To get started with BernieHR, businesses can contact Rebekah directly at rebekah.michel@bernardhealth.com. More information on BernieHR can be found at www.bernardhealth.com/berniehr.