How to successfully bring on a new hire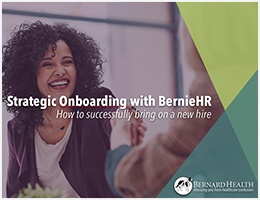 Strategic Onboarding with BernieHR
According to the Society for Human Resources, onboarding a new hire represents a significant financial and administrative burden. In a new survey, SHRM reported that the average cost-per-hire is $4,129 and the average time to fill a position is 42 days.
Because bringing on a new hire represents such an undertaking for most organizations, prioritizing effective onboarding to improve retention is a key goal for many HR departments in 2018.
However, there is significant opportunity for organizations to refocus onboarding to emphasize high-impact training and development activities, rather than administrative tasks and new-hire paperwork, resulting in improved onboarding and retention.
Bernard Health provides a solution to onboarding challenges in two ways—BerniePortal and BernieHR—which allows HR to become more strategic and valuable. To learn more, download our e-book, "Strategic Onboarding with BernieHR," or read on.
BernieHR's on-demand HR consulting streamlines decision-making and provides experienced HR services in everything from compliance to compensation and more.
In particular, BernieHR's Advanced New Hire Onboarding is a key way for businesses to outsource the burdensome administration of hiring and focus exclusively on adding value to the onboarding process.
Employers face more regulations for new hires than ever before. Advanced New Hire Onboarding helps employers avoid costly penalties, save time, and make onboarding more effective.
Bernard Health clients also have access to BerniePortal, an industry-leading benefits and HR platform.
BerniePortal allows new hires to upload all their personal information before their first day, freeing up critical time for strategic training. Here's how it works.
Jane Doe is a new hire at Acme Company. In advance of her first day, HR creates an employee profile in BerniePortal for Jane and emails her instructions to login.
Jane can enter her Social Security number, address, emergency contacts and other relevant hiring information directly to BerniePortal before she ever begins working at Acme Company. She can provide eligibility documents like the I-9 by scanning or photographing with a smartphone and uploading straight to the platform—no faxing or photocopying required.
This allows Jane to hit the ground running on Day One, onboarding complete. The alternative to an online onboarding experience? Jane spends her first day filling out form after form, which HR is required to review, correct and store on paper. But with BerniePortal, HR can plan strategic training sessions, make all the necessary introductions, and set Jane up for success.
By outsourcing the administrative tasks of hiring through BernieHR, and allowing the new hire to onboard before their first day via BerniePortal, your organization can focus on making the first day as valuable as possible for new hires.
Click here to download "Strategic Onboarding with BernieHR," or click below to set up a free consultation.