Why you shouldn't have a C-section in New Jersey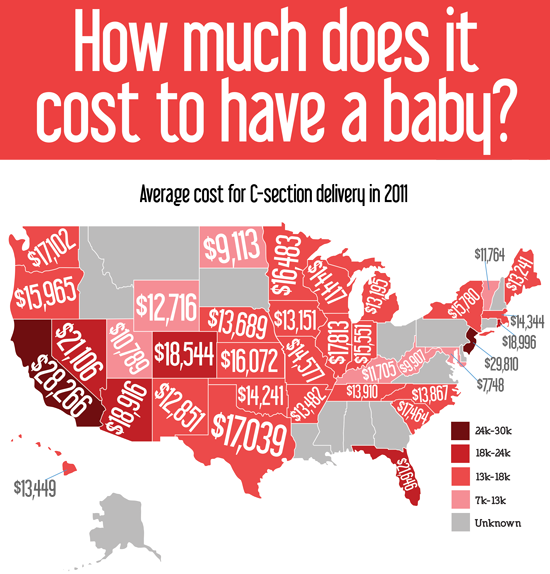 Comparing C-section prices across the United States
What comes to mind when thinking about New Jersey? Is it fist pumping? Maybe the daily GTL (Gym, Tan, Laundry) routine? I bet their maternity prices are not top of mind, but for any expecting moms out there, it's time to shift focus from guilty reality TV pleasures to the price of having a C-section in the Garden State. And ladies, let me tell you - it is expensive!
It's easy to assume "you get what you pay for", but medical procedures are an exception. Prices can vary drastically from both state to state and even from hospital to hospital. The difference in pricing is often not due to quality of care, but rather to the bargaining power a hospital has with insurance carriers. If a hospital has a lot of bargaining power, it is able to negotiate different rates than other hospitals in the area.
Let's take a look at the average cost of a C-section delivery.
How much does it cost to have a c-section?
Overall, C-section deliveries are much more expensive than vaginal births. Maryland was the cheapest state to have this procedure, with a C-section averaging less than $7,800. New Jersey was the most expensive state to have a C-section, costing nearly $30,000 - nearly $10,000 more than a vaginal birth in the same state.
The smart mom
As an expecting mother and healthcare consumer, it's important to know prices will vary drastically. Healthcare Bluebook is a free resource to research fair prices of healthcare services. If you know how much a procedure should cost, you can query hospitals ahead of time and avoid those with high prices. Having a baby is expensive!
If you liked this post, you may also like What hospitals don't want you to know about C-sections.