How to negotiate with your doctor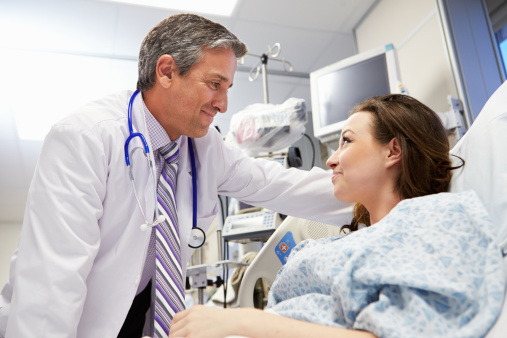 And save healthcare dollars
Recently, I ventured to the flea market on the hunt for a new coffee table. After finding the perfect one, my roommates and I negotiated with the seller and got the price down $8. $8! For my first foray in haggling, I considered my coffee table to be a huge success. While this story is not unusual for a trip to the flea market, can you imagine negotiating with your doctor? Maybe not. But what if it might save you money?
Albeit difficult, bringing up financials with your doctor can be an effective way to lower your medical expenses. As Marty Rosen, the executive vice president at Health Advocate said, "We negotiate for cars and we negotiate for things at markets. Health care really shouldn't be any different. What we've found is just asking for a discount, more often than not, you can get it."
Negotiating with your medical provider can save you healthcare dollars. Let's look at five tips for handling this negotiation process.
1. Stay in network
With
BlueCross and BlueShield
of Tennessee's
recent announcement
that they will be balance billing for out-of-network care even in emergencies, it is especially important to stay in network. While some insurance companies publish lists of their in-network providers online, it may be easier to call your doctor and ask if they accept your insurance.
2. Negotiate before your visit
As a patient (and healthcare consumer) you have the most control over your financial responsibility before you receive any medical services. If you are uninsured, you should ask your doctor if they have a discount for self-pay patients when scheduling your appointment. If you are insured but have a high deductible, you should also about a discounted rate for paying upfront (saving administrative costs for the office). If you are in a tight financial situation, pursuing a discounted rate is a smart strategy because the worst case scenario is that you'll end up paying the established rate.
3. Pay your bill on time
While paying your bill on time may seem like common sense, it is actually far less common than one would think. Some doctors offices even have a formal "Prompt Pay Discount" in place, offering a discountt for paying your bill on time. Doctors offices and hospitals spend a huge amount of time and money attempting to collect unpaid bills. In fact, in 2011 collection agencies called over 30 million people to make these medical bill payment collections. By offering to pay your bill in full prior to receiving services or at the time of service, you are guaranteeing that offices won't have to refer you to a collection agency to get paid. A Prompt Pay Discount can be anywhere from 20-30%. Paying on time is a huge bargaining chip.
4. If you've received a bill, check for errors
Shockingly, The American Medical Association reports that hospitals process nearly 9 in every 10 medical bills incorrectly. It's important to review all of your medical bills before paying them to ensure that you are only paying for services you received. For a detailed summary on how to find errors, check out this post.
5. Shop around
When making large purchases, it's common to shop around for the best price and the same can be said for medical treatment. Particularly regarding labs and tests, rates vary from provider to provider. Healthcare Bluebook lists average rates for services by area and is a good way to gauge the average cost. If you find that your service provider is charging more than average, you can use this information to either negotiate with the provider or select a less expensive option.
It's important to remember that healthcare is not unlike any other good you purchase. As a consumer, you have the power to decide what services to purchase. Engaging in a conversation with your doctor about your financial situation can save you healthcare dollars.
If you enjoyed this post, you may also like Why is it so hard to get low cost health insurance?