How much does a CT scan cost?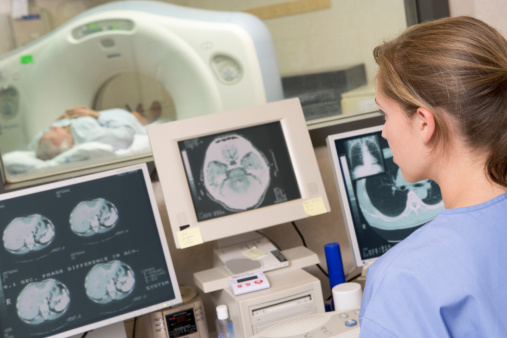 Reader Q+A
My doctor said I needed a CT scan for my headache pain. I'm on a really tight budget and worried about the cost. How much should I expect to pay? (I have pretty good health insurance.)
Unfortunately, there isn't a standard price for CT scans. The price depends on where you live, the negotiating power of the provider who administers the scan and your insurance provider.
According to New Choice Health, the national average cost of a brain CT scan is $3,275. However, the price could vary drastically, so you're smart to investigate the cost upfront.
Don't believe us? Peggy Zuckerman recounts her billing experience with three of the exact same CT scans at the same hospital by the same doctor. She received bills for $930, $8,010, and $267. Quite a drastic price difference.
Since the difference in cost for a CT scan could be thousands of dollars, it's important to shop around before having the scan. Healthcare prices are not created equal, as we've seen from researching the costs to have a baby, gallbladder removal surgery and an ultrasound. In fact, healthcare prices for in-network procedures can vary by 400 percent, according to Healthcare Bluebook.
Here are some steps you can follow to get the lowest CT scan cost in your area:
1. Ask your doctor how much it will cost. Unfortunately, your doctor might not know the answer.
2. Ask your doctor exactly what type of CT scan you need. There are dozens of different types so you'll want to know the exact type and whether or not it includes contrast.
3. Look up the fair price for the type of CT scan your doctor recommends on Healthcare Bluebook, a great resource to look up fair prices for services. According the website, a fair price is based on the "average fee providers in your area accept as payment from insurance companies. This is the price you should have to pay, even if your provider charges more. You can use this price to negotiate with your provider or shop for an in-network provider that charges a fair price.
4. Look up in-network providers in your area. The best place to do this is on your insurance carrier's website. You want to stay in-network because otherwise you face balance billing.
5. Call the providers in your area, give them details about your insurance and inquire about pricing. You will likely get wildly different answers from each provider.
6. Have your CT scan at the cheapest place. A cheap CT scan may sound like you are settling for poor quality or untrained administrators. However, prices in medicine are not based on quality, but rather on the bargaining power of the providers.
According to Consumer Reports, "providers who have a lot of market clout, such as a prestigious university hospital, may command prices several times higher than providers who don't." In the case of CT scans, cheaper is better.
The process of getting a CT scan for a fair price can seem overwhelming. If you are tempted to give up, just remember that price shopping may save you thousands of dollars.
If you enjoyed this post, you may also like Why are some hospitals out of your network?