Confused about universal healthcare?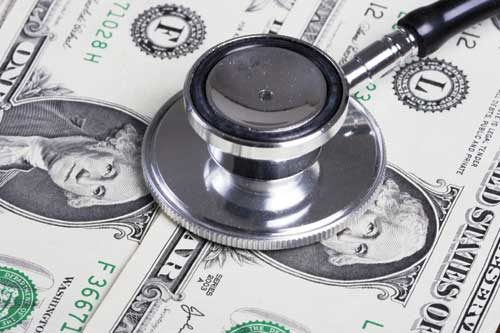 Three things to know about single-payer systems
Just before the fourth Democratic debate Sunday, candidate Sen. Bernie Sanders released a proposal for universal healthcare, which would create federally administrated single-payer healthcare program for all Americans. His proposal made healthcare a central piece of the evening's debate, and and it also raised many questions about different kinds of health systems and what will work best for Americans. Here are some of the most common questions about universal healthcare:
1. What is it?
Simply put, universal healthcare is a system in which a government provides healthcare to all citizens. Examples are Canada's Medicare program or the United Kingdom's National Health Service. These programs are typically funded through taxes, though the tax structures differ from country to country.
Universal healthcare is often referred to as single-payer healthcare, because the government operates as the sole payer of medical services. This differs from the U.S. system, which uses insurance companies, or "third-party payers." In the U.S., insurance companies pay for care on behalf of their members, who pay into the system through premiums and cost-sharing methods such as copays and deductibles.
Forms of single-payer healthcare are provided to Americans with very low incomes and people over the age of 65, called Medicaid and Medicare, respectively. Employed people of all ages pay into those systems through payroll taxes. Expanding single-payer healthcare in America is often referred to as "Medicare for all."
2. Who would be impacted financially?
Various single-payer plans have been proposed in Congress, each with different payment models. The United States National Health Care Act, originally proposed in 2003 and reintroduced in 2009, would have been financed through income taxes on the top 5 percent, taxes on stock and bond transactions and payroll taxes.
Most recently, Sanders' proposed plan would be paid for through new taxes on households, employers and the wealthy. Sanders' plan includes the following tax rates:
•Households—2.2 percent
•Employers—6.2 percent
•Income between $250,000 and $500,00—37 percent
•Income between $500,000 and $2 million—42 percent
•Income between $2 million and $10 million—48 percent
•Income above $10 million—52 percent
•Taxing capital gains and dividends, limiting tax deductions on income over $250,000, and an estate tax
3. What are the chances of the U.S. implementing universal healthcare?
Previous single-payer proposals have not been approved by Congress. The Affordable Care Act, which passed in 2010, sought instead to increase health coverage within the existing framework of the insurance industry, but an estimated 29 million Americans still lack health insurance.
Right now, Sanders is the only presidential candidate who has put forth a plan for universal healthcare. He faces resistance from opposing candidate Hillary Clinton, who is in favor of maintaining and improving the ACA, as well as staunch opposition from Republicans, who have repeatedly tried to repeal or block health reform, as well as tax plans targeting the wealthy.
In order to implement universal coverage, Sanders would have to beat Clinton in the Democratic primary, beat the Republican nominee in the general election and get the legislation passed through Congress. Sanders' critics say getting universal healthcare passed is unlikely, but his supporters disagree, maintaining that it's the best way to improve healthcare quality while controlling costs.
Sanders' plan brought the differences between his and Clinton's healthcare approaches to the forefront of their race. The issue will likely remain an important one throughout the Democratic primary season, which kicks off Feb. 1 in Iowa.
If you liked this post, you may also like "Healthcare news to watch in 2016."