How a 40-employee group saved $100,000 with reference-based pricing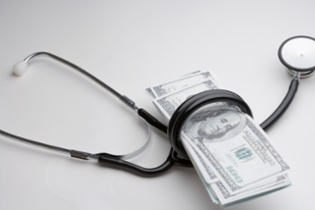 A more cost-effective way to pay for healthcare
Reference-based pricing is a new payment model for employer-sponsored healthcare. Through reference-based pricing, self-insured employers forgo the traditional insurance contract. Instead, employers pay employee claims directly to hospitals and providers, typically in excess of Medicare. In other words, employers pay the hospital 140 percent of what Medicare would reimburse for the same service.
This strategy can save employers thousands of dollars per year—below is a case study of one of our clients who saved $100,000 on premium and plan costs by transitioning to this strategy.
But why would an employer want to forgo the traditional insurance contract? A piece of the Affordable Care Act is the reason why.
The ACA implemented something called the "medical loss ratio," which intended to cap the profits of insurance companies by requiring them to pay out 80 percent of what they collect in premiums. This means the maximum profit insurers can collect is 20 percent of premiums.
As a result, the avenue to profit growth is to increase premiums altogether. Employers are left to question whether insurers are best positioned to help employers lower medical claims, and what really drives annual premium increases of 10 percent, 15 percent, 20 percent or more.
Arguably two services make up the bulk of a traditional insurer's value proposition—negotiating discounts for medical services with providers, and administrative services around paying claims.
But as healthcare service prices have skyrocketed, many employers are finding that even with a 50 percent insurance discount, employers are still often paying double or triple what the government pays for the same service.
The second service insurers provider is paying claims. But medical bills are consistently wrong, and with insurers incentivized to increase their 20 percent margin, many are questioning their motive to inspect these bills for errors and overcharging.
Ultimately, many employers are finding that there are more transparent and cost-effective ways to pay for employees' healthcare, including reference-based pricing.
Case Study
Our client had 40 employees enrolled in a fully-insured plan with a major carrier. The employer received a 15 percent renewal increase, which would have caused the group's medical spend to jump to $420,000.
In order to stay fully-insured and absorb the increase, the group planned to increase deductibles and payroll deductions and eliminate HSA contributions.
Instead, the group moved to a reference based pricing plan. Even funding the plan to the maximum, the group saved $100,000 in premium and plan costs.
Ultimately, this group was actually able to reduce deductibles, lower payroll deductions and increase HSA contributions.
(More: Self insurance on the rise)
Interested in learning more about how Bernard Health can build a sustainable benefits package for your employees? Click below to contact us.