We're hiring—join the Bernard Health team!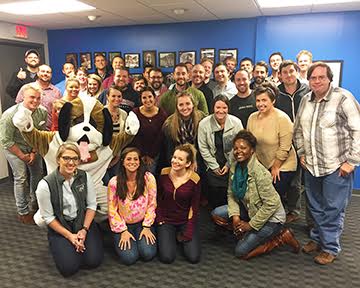 Positions open in Nashville, Atlanta and Austin
We're growing quickly here at Bernard Health and BerniePortal, and we're looking for highly motivated individuals to join our team.
Positions are open at our Nashville, Tennessee headquarters, as well as in Austin, Texas and Atlanta, Georgia. If you're looking for a great job in the healthcare, benefits and software industries, keep reading.
First, who are we?
Bernard Health and BerniePortal
Bernard Health provides industry-leading health benefits advice to employers and individuals in Nashville, Austin, Atlanta and Indianapolis. Our mission is to be the world's most trusted advisor when it comes to helping people plan for their healthcare.
A key part of that is our sister company, BerniePortal, an all-in-one HR and benefits administration software platform. We license BerniePortal to brokers all across the country who use it to help their own clients maximize value in their health and benefits packages.
Who are we looking for? You, probably! Here are the current open positions:
Employer-focused Outside Sales
Entry-level, base compensation $40K
Call on small and mid-sized employers to choose Bernard Health as their broker and design their benefits strategy.
Positions in Austin and Atlanta
Inside Software Sales
Generate leads and sales growth for BerniePortal
Entry level, target compensation $40K-$50K.
Positions in Nashville
Software Support Specialist
Target compensation $45K-$55K
Assist new clients in implementing BerniePortal and contribute to customer retention.
Positions in Nashville
Front-End Software Engineer
Target compensation $55K-$80K
Contribute to the development and growth of BerniePortal.
Looking for a job with great benefits? We've got them. Full health and ancillary benefits provided, including HSA and dependent care FSA, employer-paid life, short-term and long-term disability insurance and 401(k) with a 3 percent employer contribution.
If you're interested, click here to check out our careers page and send us a resume. Can't wait to meet you!