Bernard Health is hiring!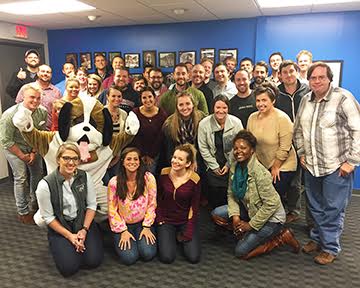 Open positions in Nashville, TN, Austin, TX and Campbellsville, KY
We're growing quickly and hiring here at Bernard Health and BerniePortal, and we're looking for highly motivated individuals to join our team.
Positions are open at our Nashville, Tennessee headquarters, as well as in Austin, Texas and Campbellsville, Kentucky. If you're looking for a great job in the healthcare, benefits and software industries, keep reading.
First, who are we?
Bernard Health and BerniePortal
Bernard Health provides industry-leading health benefits advice to employers and individuals in Nashville, Austin, Atlanta and Indianapolis, and through provider and financial advisor partners around the country. Our mission is to be the world's most trusted advisor when it comes to helping people plan for their healthcare.
A key part of that is our sister company, BerniePortal, an all-in-one HR and benefits administration software platform. We license BerniePortal to brokers all across the country who use it to help their own clients maximize value in their health and benefits packages.
Who are we looking for? We want the best and brightest, and people who reflect our core principle of mutual respect. We want a team full of people who passionately believe Bernard's mission is a worthwhile, important mission.
Click here to see all open positions, or read on for more information.
Open positions:
Controller, Nashville
Manage financial accounts for Bernard Health.
Inside Sales—Software, Nashville
Identify and generate opportunities for the BerniePortal sales team.
Software Developer, Nashville
Help us grow and shape the future of our flagship product, BerniePortal.
Inbound Marketing Strategist, Nashville
Execute multi-channel lead generation programs for Bernard Health and BerniePortal.
Summer Sales and Marketing Intern, Nashville
Identify and generate opportunities for the sales team in this paid internship.
Entry-Level Outside Sales, Nashville
Help employers design the best health and benefits strategy.
Employer Client Success, Austin, TX
Support our employer clients throughout the year in their health and benefits plan.
Healthcare Advisor, Campbellsville, KY
Help individuals and families implement the best possible health plan strategy through face-to-face meetings in a hospital setting.
Looking for a job with great benefits? We've got them. Full health and ancillary benefits provided, including HSA and dependent care FSA, employer-paid life, short-term and long-term disability insurance and 401(k) with a 3 percent employer contribution.
If you're interested, click here to check out our careers page and send us a resume. Can't wait to meet you!