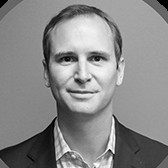 Written by
Ryan McCostlin
Ryan leads finance and people operations at Bernard Health. Ryan also hosts BerniePortal's podcast and Youtube series HR Party of One, where he covers HR issues that matter.
Top 5 ways hospitals are helping patients find health insurance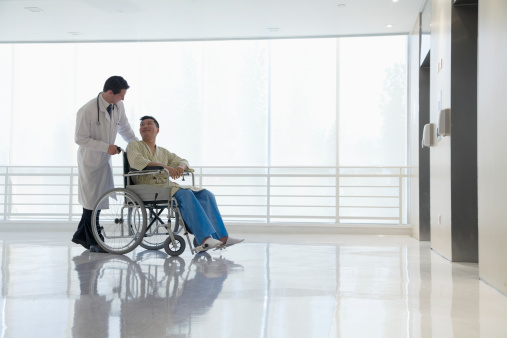 How do the uninsured find healthcare?
Not having health insurance doesn't keep Americans from seeing a doctor. Millions of uninsured Americans use healthcare services every year, and since healthcare is expensive, many uninsured and underinsured patients can't pay their bills. For obvious reasons, this is a problem. It's a problem for patients who have unpaid medical bills sent to collection agencies. And it's a problem for healthcare providers who lose money when they don't get paid.
How big is this problem? It's huge. In 2013, there were 72 million non-elderly people who went uninsured for at least part of the year, and 40.8 million were uninsured for all 12 months. The cost of "uncompensated care" provided to those 72 million uninsured patients was $84.9 billion.
Healthcare insiders call this the "uninsured and uncompensated care problem".
What the Affordable Care Act did to fix this
The uninsured and uncompensated care problem is a big reason why Congress passed the Affordable Care Act. Web-based health insurance marketplaces, e.g. Healthcare.gov, were designed to make it easier for Americans to find affordable coverage. The prevailing wisdom was: Let's make health insurance cheaper. And easier to buy. And let's watch the number of uninsured Americans drop.
The Affordable Care Act also sought to control costs, in part by trimming fat from Medicare. Since Medicare is the single biggest source of payment for many hospitals, this led to anxiety among hospital CEOs and CFOs. But when healthcare providers expressed concern around cuts in Medicare reimbursements, lawmakers responded by saying (and I paraphrase...), "Don't worry. Sure, Medicare revenue may drop, but this will be offset by reductions in uncompensated care. You won't have as many uninsured patients."
And it worked! To a point. When the Affordable Care Act's first ever Open Enrollment launched in October of 2013, the uninsured rate was 17.1%. By January 2015, that number had dropped to 12.9%. This 4.2% reduction represents over 13 million Americans with new health insurance - more than most predicted would sign up in the first 18 months.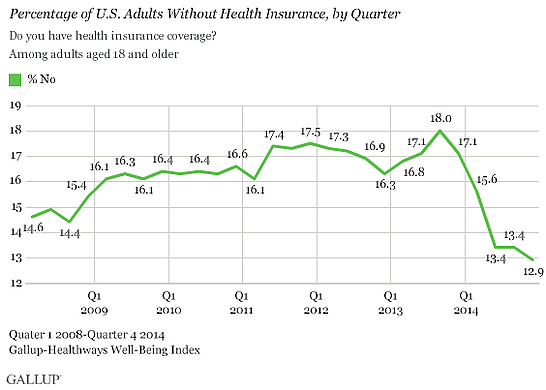 But how should we feel about this progress? Do we celebrate the fact that over 13 million previously uninsured Americans now have coverage? Or do we lament the fact that over 40 million Americans are still uninsured? Should providers sit back and wait for the remaining 40 million uninsured patients to eventually enroll? Or can they take concrete steps to help those patients find the coverage they need?
The short answers are:
Yes, we should feel good about our progress.

Yes, we should still lament the fact that over 40 million Americans are uninsured.

No, providers shouldn't sit back.

And yes, providers are uniquely positioned to take concrete steps to help patients find coverage.
More and more providers are choosing not to sit back and wait for uninsured patients to enroll in health insurance. From having hospital employees become Certified Application Counselors… to investing in Medicaid enrollment services… to reporting undocumented / uninsured immigrants to the Department of Homeland Security, providers are getting creative about addressing the uninsured and uncompensated care problem. Our team at Bernard Health looked at what's working and what isn't, and here's what we found.
Top 5 Ways Hospitals / Providers are Helping Patients find Health Insurance
1 - Enlist the help of "Navigators"
The architects of the Affordable Care Act recognized that many Americans would need help creating online accounts and navigating the health insurance Marketplaces, so they included funding for entities that could provide this help. The entities are called "Navigators". For healthcare providers, one big advantage of working with Navigators is that they're free, or at least providers don't pay for them directly. There are two main disadvantages though.
They can't help people choose a plan. Navigators can help people set up an account on the online Marketplace, but they can't offer guidance comparing insurance options or recommend which plan is best. If they do, they're subject to fines and penalties.
There aren't very many of them. In Tennessee, where Bernard Health is headquartered, there are fewer than 20 navigators for over 800,000 uninsured Tennesseans. With limited funding, this is representative of what we see in other states too.
2 - Have existing staff become Certified Application Counselors
Many providers have asked employees to take online classes and pass an exam to become Certified Application Counselors (CACs). Usually, these are employees whose primary responsibilities are in registration or financial counseling. This approach has advantages over relying on Navigators. Most obviously, the hospital can make sure a CAC is available onsite to help patients when they need it most.
One big disadvantage is that CACs are subject to the same restrictions applied to Navigators. In other words, CACs can't help people compare insurance options or recommend a plan.
Why is this a problem? Here's an example.
Imagine you're a CAC at Vanderbilt University Medical Center in Nashville. An uninsured patient comes through the ER with a migraine. He gets an MRI, and before leaving the hospital, he meets with you to discuss insurance options.
You help the patient create an account on healthcare.gov, and you show the patient the options. There are over 90 plans, and with a government subsidy, monthly premiums range from $33 - $395. The patient is pleased to find out that he can get a plan through Blue Cross Blue Shield of Tennessee for $33 / month. He enrolls in the $33 option, which provides access to the "E Network" of providers.

Unbeknownst to the patient, Vanderbilt isn't in the "E Network". The patient is now technically insured, but when he returns to Vanderbilt for a follow-up visit, his insurance isn't accepted. It's only at this time that the registration team explains that his new insurance doesn't include Vanderbilt in the network. Had the patient known this at the time of enrollment, he may have chosen another Blue Cross plan for $59 / month that features the "S Network", which includes Vanderbilt.

But the patient chose the cheaper plan. And the CAC couldn't legally recommend against it. Frustrating for the patient. Frustrating for the hospital.
3 - Hire or increase investment in Medicaid enrollment vendors
29 states (and Washington, DC) have expanded Medicaid. In these states, new Medicaid enrollments represent low hanging fruit. There's no shortage of vendors who offer Medicaid enrollment services, and many offer some combination of onsite and remote enrollment support. Usually, Medicaid vendors are paid some percentage of revenue recovered for a hospital when they enroll a patient in new coverage. In general, Medicaid enrollment representatives are good at helping patients who have straightforward circumstances and "clean" applications.
4 - Refer patients to licensed health insurance brokers
Some providers have had success partnering with insurance brokers in the community. When an uninsured patient shows up in the ER or at a clinic, the provider may ask for permission to share their contact information with an insurance broker who can call or email the patient to help them compare insurance plans and choose the best option. In general, we've seen this strategy work best in tightly knit communities where there is a high level of trust with a local insurance broker.
One big advantage of working with a licensed health insurance broker is, unlike Navigators and CACs, they can help patients evaluate options, and even recommend a plan without being subject to penalties or fines. And since brokers are paid commissions by insurance companies, they have incentives to get patients signed up.
One disadvantage is that some patients are uncomfortable with being referred to commissioned sales people who may be incentivized to recommend a plan that isn't the best fit. We've also heard about brokers pitching other insurance products e.g. life insurance, final expense insurance, cancer insurance, accident insurance, that aren't in line with that the patient wants or needs at the time.
5 - Partner with licensed, non-commissioned advisors e.g. Bernard Health
From what we've observed, the providers having the most success solving the uninsured and uncompensated care problem are placing licensed, non-commissioned advisors onsite in their clinics and ERs and making them available to help patients when they need it most. Not only can these advisors help patients enroll in new coverage, but they can help answer complicated questions about existing health insurance coverage. When appropriate, they can help patients decide to keep their current plan instead of switching to an option that may seem more affordable because the monthly premium is lower, but would actually be worse for the patient because of network restrictions or other out-of-pocket costs.
The result is that providers are helping patients save time, save money, and get peace of mind that they have the coverage they need. And in doing so, they're reducing uncompensated care. Here's how: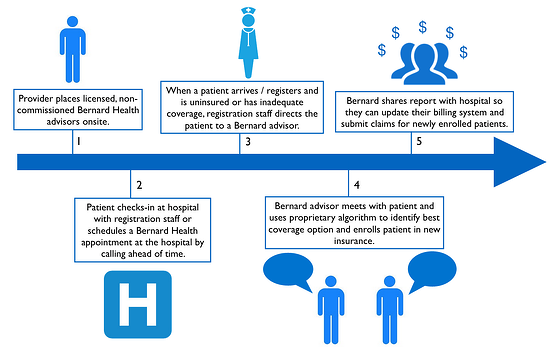 What's the impact?
Bernard Health has helped individuals and families in our healthcare retail stores since 2010, and we placed our first licensed, non-commissioned advisors in provider settings in 2013. Since then, we've helped thousands of patients in 22 states. Here are three recent examples of providers who have worked with Bernard Health to make licensed, non-commissioned advisors available to patients.
One 63-bed hospital in Kentucky placed two advisors onsite. One advisor in their ER, and one in a nearby primary care clinic. The two advisors helped over 800 patients and community members enroll in new health insurance coverage in the first 12 months.

One 30-bed hospital in Tennessee placed one advisor onsite in the ER, and in her first month onsite, she found affordable coverage for a "frequent flier" patient who regularly visited the ER for primary care. Instead of sending the patient's bills to a collection agency, as they had in the past, the hospital is now able to submit thousands of dollars of medical bills to the patient's new insurance company.

One national dialysis provider partnered with Bernard to make advisors available to dialysis patients who were having trouble finding the right insurance coverage. In the first 16 months, Bernard's licensed, non-commissioned advisors found new, better insurance coverage for over 500 patients.
One thing that makes licensed, non-commissioned advisors different from Navigators and CACs is that they have a health insurance license, and that means they can recommend the best plan for a patient. To revisit the example from above, a licensed, non-commissioned advisor at Vanderbilt University Medical Center could have helped the uninsured patient evaluate all 90 plans available on healthcare.gov. Instead of choosing the $33 / month plan that didn't include Vanderbilt in the network, the advisor could have helped the patient weigh monthly premium savings against the importance of having access to Vandy. Providers tell us this kind of guidance leads to better outcomes for patients.
Here's a more comprehensive list of differences between the approaches: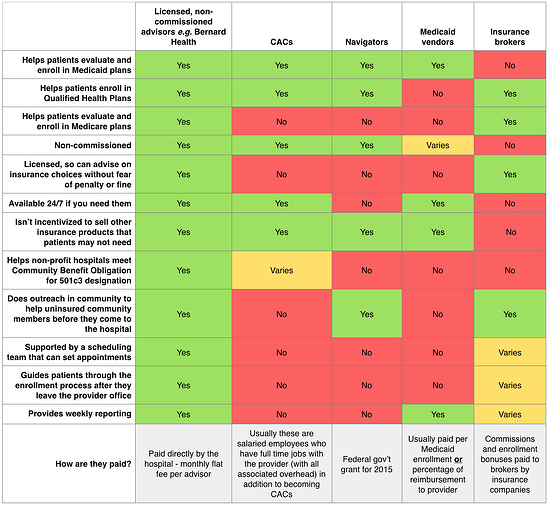 What does this mean for providers?
The next several months represent a unique opportunity to accelerate the rate at which patients get connected with health insurance coverage. Providers are positioned better than any other stakeholder to help chip away at the uninsured and underinsured rates. And they're positioned to benefit the most from reductions in uncompensated care. The providers that take advantage of this opportunity will more effectively deliver on their mission. And they'll help solve the uninsured and uncompensated care problem in their community.
If you enjoyed this post, you may like Rushed to the ER? How to avoid getting a bill for $50,000.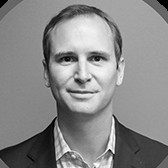 Written by
Ryan McCostlin
Ryan leads finance and people operations at Bernard Health. Ryan also hosts BerniePortal's podcast and Youtube series HR Party of One, where he covers HR issues that matter.