What Millennials want from their health insurance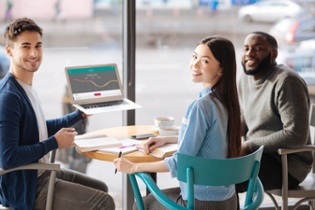 How to remain competitive
Millennials are the largest generation in the workforce, and with the economy reaching near full employment, employers are increasingly trying to recruit and retain Millennial talent.
With that in mind, it's useful to consider what this generation is looking for in their workplaces, and in particular in their health insurance.
Don't make the mistake of thinking that Millennials aren't interested in your benefits offerings. According to a study conducted by Fit Small Business, 34 percent of Millennials cited the health plan as the most important workplace benefit.
Though some brand new graduates may be able to stay on their parent's health plan for a few years, others will not have that option. And regardless, by 26, your Millennial employees will be looking for a health insurance plan of their own. Older Millennials will also be more likely to start families and experience more healthcare needs, like the other generations in your workforce.
That said, Millennials will have some different needs when it comes to health insurance. Here are three things they are looking for.
Three things Millennials want from their health insurance
Cost-consciousness
Two-thirds of Millennials report that premiums at or above $200 are unaffordable, according to the TransAmerica Center for Health Studies. Half of Millennials say they have skipped or delayed care due to cost.
Most employees tend to be cost-conscious about their healthcare, but Millennials in particular are looking for affordable coverage. Many are in their early or mid-career, and most have other financial priorities such as paying off student debt.
Employers can develop plan offerings to address cost concerns, including contributing to Health Savings Accounts, using a defined contribution approach, or offering ancillary options to offset potential out-of-pocket costs.
An online benefit platform makes it easy to implement these strategies. BerniePortal is integrated with HSA Bank and offers lower participation rates for ancillary options, making it easy for small companies to offer robust benefits packages.
Support tools

Millennials tend to be less informed about health insurance than other generations in the workforce. Thirty-five percent say they are not well informed about the options available to them.
Providing effective communication about benefit offerings can help bridge the information gap. Use a multi-platform approach, including flyers, information packets, videos and email communication.
Also, though Millennials report being cost sensitive, only 37 percent have comparison shopped for healthcare. Providing price-shopping support tools can help employees minimize their expenses.
An online benefits platform allows employers to provide notices, support tools and benefit information. BerniePortal's "shopping cart" function makes it easy for employees to see how much each offering will cost, and how much the employer will contribute. Millennials are used to conducting their personal and professional business via technology, such as online banking. As they grow in their careers and become decision-makers, they will increasingly expect benefits to be offered online.
Flexibility
Millennials are more likely than older generations to use telemedicine and retail clinics, according to a RAND Health study, and young adults accounted for 44 percent of retail patients. A driver of this trend is the fact that less than a quarter of Millennials have primary care physicians.
Millennials are also looking for convenience. They are more likely to prefer a transactional, walk-in clinic than having to wait a few days for a primary care appointment.
This is another reason why HSA-eligible plans can work well for Millennials. HSAs make it easier for MIllennials to have control over their healthcare dollars and where they spend them.
Employers in Nashville, Austin, Atlanta and Indianapolis: Call us today to learn how we can build the best health plan strategy for you.