Will my health plan cover my baby after birth?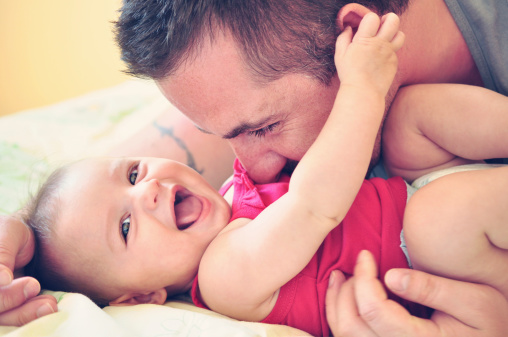 Reader Q+A
I'm having a baby in December. I'm wondering if my baby will be covered after she's born or how this works with insurance? Can I sign her up right away? What do I need to do to make sure she's covered? My friend told me her insurance company said her baby had to meet his own deductible. I wasn't planning on this cost and am wondering if this applies to my situation too?
First of all, congratulations! This is certainly a very exciting time for you and your family. I'm guessing there are other things you'd rather worry about than health insurance. (How's the nursery coming along?)
As for your questions, I'll tackle them one by one.
How will I get my baby health insurance?
Fortunately, you don't have to get on the phone right after you give birth (except maybe to call your mother-in-law) because you have 60 total days to add your baby to your health plan. If you are on an employer-sponsored plan, contact the person at your organization responsible for the health plan and let them know you'd like to add your baby. Otherwise, call your insurance company and ask to add your baby to your health plan. You can find the number on the back of your insurance card.
Because you have health insurance, your baby has automatic coverage for the first 30 days of life. How nice! Just make sure you sign your little one up within the 60-day special enrollment period window.
Will my baby have to meet her own deductible?
Yes, after your baby is born, she will be on her own plan with her own deductible. However, if the baby is healthy, most doctors bill anything at the hospital under the mom. You'll want to contact your doctor and ask how he or she bills. However, if your baby isn't healthy, let's say she has to be in the NICU or undergo surgery, she will fall under her own deductible that will start right after birth. This newborn deductible comes as a surprise to many, as it can add another layer of financial stress.
Best of luck with your upcoming arrival and let us know if we can help answer any more questions about healthcare. We're here to rescue you!
Health insurance can be confusing and there is a lot of conflicting information available. Our mission is to be your most trusted advisor when you navigate these difficult scenarios. We'd love to answer your questions, so please leave a question in the comments below or email us at marketing@bernardhealth.com.
We look forward to hearing from you! And as our teachers told us, there are no stupid questions.
If you enjoyed this post, you may also like Why you should have a baby in North Dakota.